Thanks to more than 20 years of experience advising companies that are seeking to develop and improve antifouling systems, we can offer our customers a test program that is perfectly tailored to their needs.

Bernd Daehne
Our Test Procedures and Services
Go directly to a list of our test procedures and services that we offer in our laboratory on Norderney.
Directly to the services
Rapid test

of the initial settlement of barnacles in North Sea waters
This rapid test, developed by our company, was first presented in 2016 at the International Congress for Marine Corrosion and Fouling (ICMCF) in Toulon. It fulfilled a long-held wish of developers of antifouling coatings for a short-term screening test that could be performed in real-life outdoor conditions. This test, which lasts approximately one week, does not replace seasonal testing, but gives an initial idea of the product's effectiveness, thus providing valuable information on which compounds show promise; these can then be investigated in greater depth and developed further. Ideally, this test is performed in April and immediately followed by static panel testing. However, the rapid test can also be started in July.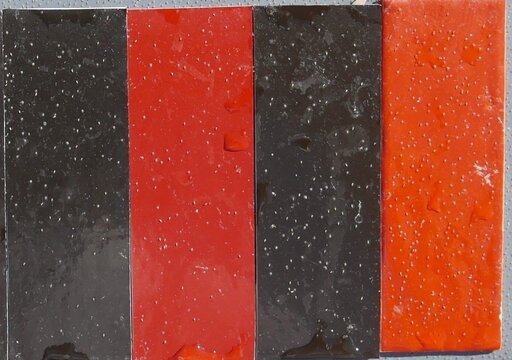 ---
Static panel testing in North Sea waters

in accordance with ASTM 2683-78a (testing) and ASTM D 6990-20 (evaluation)
This is the classic antifouling test using coated panels that are suspended in the seawater for an entire summer season from April to September. Dr. Brill + Partner offers this test in several panel sizes. Interim inspections are performed monthly throughout the season. The photos and fouling logs are made available by email or cloud immediately after every inspection so that the customer can closely monitor the development of fouling. Following the final inspection at the end of September, a detailed report is compiled containing results and recommendations.
---
Dynamic panel testing in North Sea waters 

Evaluation in accordance with ASTM D 6990-20
Static panel testing does not provide an ideal picture of the efficacy of new anti-adhesion or "foul release" coatings since these are more dependent on current than others. This is why the Institute for Antifouling and Biocorrosion on the island of Norderney developed the RotoMarin®. This test bench is used for dynamic testing throughout the summer season by having the panels rotate around an axis. This method was also presented in 2016 at the ICMCF and in several specialized journals. The particular advantage of the RotoMarin® is that results obtained at flow rates of 2–12 knots can be read off each panel. This makes it possible to determine the speed threshold at which the respective coating becomes effective.
---
Static panel testing in subtropical or tropical seawater

in the Mediterranean, off New Zealand, India, and other locations on request
Although fouling in the North Sea is very prolific and diverse during the summer months, a number of customers also like to confirm the results in other waters. It can also happen that a field test has to be started at a time when the fouling season in the North Sea is over. For this reason, we also offer testing at our partner stations. The fouling in Wellington (New Zealand) is very similar to that in the North Sea but occurs at a different time of year. Port du Gapeau, near Toulon (Mediterranean), experiences the fouling typical of the Mediterranean with worms that secrete calcareous tubes. In contrast, the subtropical climate of Tuticorin (India) is conducive to severe fouling with barnacles.
---
Dynamic field test using test patches on recreational craft 

Evaluation in accordance with ASTM D 6990-20
In the late test phase, the most promising coatings are tested in real-life field tests. The greatest variability with regard to the dates for application and inspections is offered by trials on Brill's own leisure boats. In spring, test patches are applied in dry dock by Brill. On both boats, an area is available amidships for a maximum of 3 test formulations as stripes. During the summer months, inwater surveys are carried out by use of an underwater camera, and after six months in autumn a final inspection is carried out when the ships are taken out of the water. Both ships sail with a level of activity typical of recreational craft. The sailing boat DIEKE reaches speeds of 2-7 knots, the motor boat MARLEEN usually travels at up to 24 knots.
---
Dynamic field test using test patches on commercial vessels 

Evaluation in accordance with ASTM D 6990-20
In the final test phase, the most promising coatings will be tested in real-life field tests on commercial vessels. For this purpose, coastwise operating ships are favoured, as they are usually dry-docked annually and can then be coated and inspected one year later. However, the exact time interval of the routine dockings must be observed. Depending on the type of coating and the customer's wishes, Dr. Brill und Partner organises suitable ferries or authority vessels with suitable docking dates, accompanies the application of the test patches by a specialist company i.a. with regard to substrate pre-treatment. Inspections can be carried out sporadically at irregular intervals by inwater survey, a dock inspection usually is only possible after approx. 12 months in the spring of the following year.
---
Static panel testing in fresh water

in accordance with ASTM D3623-78a (2020) (testing) and ASTM D 6990-20 (evaluation)
Dr. Brill + Partner also offers the classic panel test for the summer season from April to September in freshwater locations. We offer these tests because there are certain promising non-toxic products that are not (yet) sufficiently effective in seawater but could by all means be an environmentally friendly alternative in fresh water, in which less fouling occurs. Another advantage of these is they are not subject to biocide regulations. Considering that 70 % of recreational vessels in Germany are berthed in fresh water, the market is considerable and we have therefore established the perfect test station at the marina in Grohn.
---
Static panel testing in North Sea waters under offshore-like conditions

Evaluation in accordance with ASTM D 6990-20
Attention is increasingly turning to antifouling solutions for offshore structures. Dr. Brill + Partner therefore operates a "beach station" on the exposed west side of the island of Norderney. Here, static tests can be performed in the various zones on a pile, i.e. the spray zone (supralittoral), the intertidal zone (eulittoral), and the permanently submerged zone (sublittoral).
---
Antifouling tests for marine energy installations

Evaluation in accordance with ASTM D 6990-20
Marine energy installations could become an important source of energy in the future. However, one critical problem is fouling, which inevitably accumulates on both static and dynamic components. At its test station on Norderney, Dr. Brill + Partner can test antifouling solutions in both situations using static panel tests for static components and dynamic tests on the RotoMarin® for rotating components.
---
Static testing with nets or yarns for aquaculture in seawater

Evaluation in accordance with ASTM D 6990-20
Another area in which antifouling solutions are required is mariculture, a type of aquaculture. The nets and cages used by mariculture systems quickly become fouled in the sea, thus impairing the exchange of water with the surrounding environment. This can cause excrement to accumulate inside the systems. Biocides should not be used on nets since food production is involved. Furthermore, the fish are sometimes treated with antibiotics, which in combination with antifouling biocides could cause dangerous interactions. Dr. Brill + Partner stretches the yarns or nets in appropriate frames and samples them every month in compliance with ASTM.
---
Extended static panel testing over the winter season

in accordance with ASTM D3623-78a (2020) (testing) ASTM D 6990-20 (evaluation)
If the results shown by individual coatings after the summer season are very good, we strongly advise continuing the test without interruption since the time factor cannot be simulated in biological tests of this kind. Although the fouling only develops slowly during the winter season from October to March, the coating continues to "age". If ice forms, the test panels are taken out of the water and stored temporarily in aquariums. Initially, only one inspection is performed when the fouling season starts in April. Depending on the fouling and the condition of the coating, the customer can then decide which coatings should be tested every month throughout the subsequent summer season.
---
Cleaning test coatings

using brushes or high-pressure water jets
"Cleaning" and "grooming" (cleaning at short intervals) are approaches to tackling fouling on ships that are (again) attracting increased attention. More and more manufacturers are relying on robust, cleanable but biocide-free hard coatings that have to be cleaned at regular intervals. Dr. Brill + Partner has developed suitable test procedures that approximate real-life situations as closely as possible. The test panels are cleaned under water using rotating brushes or high-pressure water jets at the intervals recommended by the manufacturer. The panels are inspected both before and after the cleaning process.
---
Measurement of barnacle adhesion

in accordance with ASTM D 5618-94
In the case of anti-adhesive or "foul release" coatings, it can happen that fouling settles on static components but does not adhere to them. This test for measuring barnacle adhesion was developed to quantify this adhesive strength and identify discrepancies between different test coatings. Once the barnacle type and size have been determined, the shear force required to push the barnacle to one side is measured.
---
Other material tests in seawater,

e.g. tests of plastic biodegradability
Along with tests of antifouling efficacy and corrosion prevention, Dr. Brill + Partner also offers other material tests that are conducted in seawater. Manufacturers can for example have us expose plastics before performing their own durability and weathering investigations later on. One specific application relates to polymers for fishing nets, which need to be made biodegradable to prevent them littering the oceans and coasts for decades on end.
---
Supply of seawater or marine organisms,

e.g. corophium or fish
Natural seawater is commonly required for research purposes since artificial seawater can simulate the salt content but not the biotic content or properties of its natural equivalent.
Marine organisms such as benthos or fish samples are also required. Dr. Brill supplies the requisite organisms whenever necessary and possible.
Test locations

With test locations worldwide, we offer our customers the opportunity to have tests performed under various conditions.
Locations
Hafen Grohn
Am Wasser 35
28759 Bremen (DE)
Hafen Grohn
Am Wasser 35
28759 Bremen (DE)
Port du Gapeau
Chemin des Cabanes du Gapeau
83400 Hyères (FR)
Port du Gapeau
Chemin des Cabanes du Gapeau
83400 Hyères (FR)
Wellington
6011 Neuseeland
6011 Wellington (NZ)
Wellington
6011 Neuseeland
6011 Wellington (NZ)
Tuticorin
Harbour Estate
628004 Tuticorin (IN)
Tuticorin
Harbour Estate
628004 Tuticorin (IN)
Norderney
Am Nordstrand
12345 Norderney (DE)
Norderney
Am Nordstrand
12345 Norderney (DE)
Dear customers,
Our family-run company is always at your service. We meet you where you are, are always fair and offer high quality. We seek lasting, successful relationships in which each of us can learn from the other to the benefit of all. We constantly adapt our services to meet your needs. We look forward to hearing from you.

Kind regards,
Dipl.-Geogr. Bernd Daehne
Head of Antifouling Research Station
Get in touch